If you're reading this then you're probably thinking about installing a fiberglass pool in your backyard but you're not sure if it's a good investment. By now, you've come across plenty of information about fiberglass pools on and offline, but are unsure how to proceed because of the contradicting information.  
That's why we've put together this article to share with you the advantages and disadvantages of buying a fiberglass pool. We want you to make an informed purchasing decision that you won't regret. So here's the 4-1-1 on fiberglass pools and just so you know we didn't hold anything back.
The Benefits of Installing a Fiberglass Swimming Pool
They're available in different shapes and designs:
Fiberglass pools have come a long way since they were first developed and introduced to the market. Nowadays, they're available in every conceivable design and shape which means you don't have to compromise on getting the pool of your dreams. There's a lot you can do with fiberglass pools, like adding splash pads, multicolored lights, waterline tile, poolside walls, tanning ledges and more.
You can get a pool that's customized to the tee, and most manufacturers include built-in seating regardless of the design. That's because swimming pools are designed for fun and relaxation so you shouldn't have to pay extra to add steps and benches.
They're easy to maintain:
Not only do fiberglass pools feature a non-abrasive and smooth surface but they're naturally resistant to algae which is one of the biggest challenges faced by swimming pool owners.
To maintain a fiberglass pool all you need to do is vacuum away the debris and make sure the water chemistry is right. No need for liner replacement, costly acid wash or re-plastering.
They're quick to install:
Instead of spending weeks or months on a pool installation, you can cut that time to a couple of days when you opt for a fiberglass pool.
No matter how many people use your pool each day, it won't get damaged or punctured. That's because fiberglass pools are made tough to withstand the elements. They can last for decades without the need for liner replacements or any of the other maintenance tasks that are required with a concrete or vinyl pool.
The surface of a fiberglass pool is covered with gelcoat. This substance keeps the pool smooth so it's safe for kids to swim about without worrying about getting scrapes and bruises.
They're compatible with saltwater systems:
Fiberglass pools are perfect for anyone that's trying to reduce their chlorine exposure because salt water has low chlorine levels, which makes it a better option for your skin, eyes and swimwear clothes!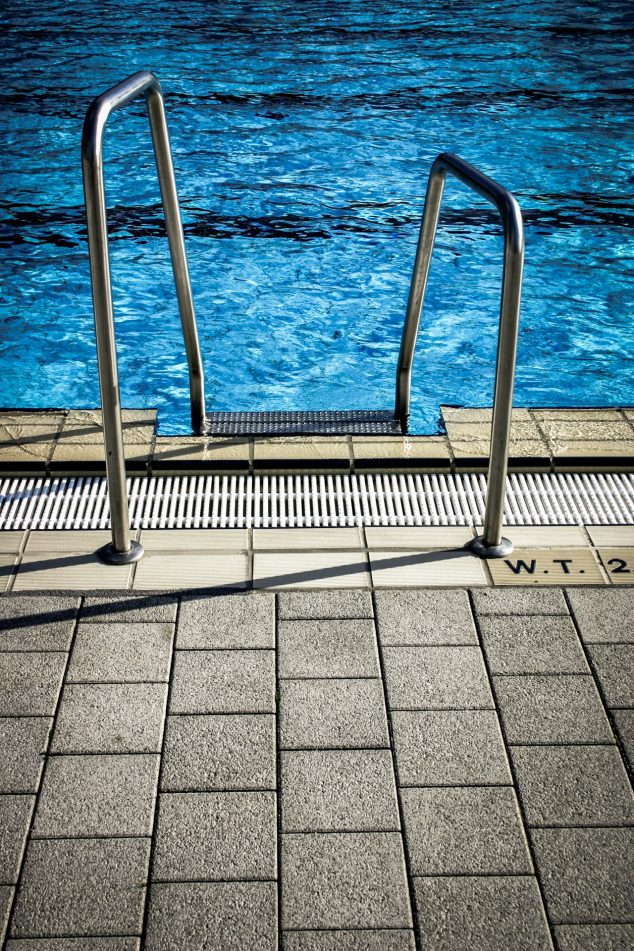 The downside of buying a Fiberglass Pools
Now that we know what the advantages of buying a fiberglass pool are, it's time to look at the disadvantages:
They have a higher up-front cost:
While you can easily get a vinyl pool for $10, 000, fiberglass pools usually start from $45, 000 to $85, 000. However, fiberglass pools are cheaper to maintain in the long-run compared to vinyl and concrete pools.  
With fiberglass pools you don't have to worry about the pH level going out of whack because they have an inert surface that won't affect the pool chemistry. You'll also save tons of money just from the algae treatments that you'd have to undertake with a concrete pool. That's because concrete pools have pores large enough for the algae to hide in, whereas fiberglass pools don't.
It might be a challenge to repair the gelcoats:
While your fiberglass pool won't need any repairs for at least 20 years from installation, you may need to repair the gelcoat due to a rock hitting the surface or some other rare occurrence. This can be a problem because it's practically impossible for anyone to replicate the pool's finish.
Finally…
The final verdict on fiberglass swimming pools is that just like any purchase, they're not perfect. They require a hefty up-front investment and you might have a hard time replacing the gelcoat if that ever becomes a concern.
However, the positives offered by fiberglass pools far outweigh the negatives. Fiberglass pools install quicker than any other type of pool, they're easy to maintain and they can last for a lifetime without sustaining much damage. So if your budget allows, check out Perth swimming pools to view a selection of fiberglass swimming pools that offer great value for money.