Diwali is a Hindu festival celebrated over 5 days by the community in India and around the world. The exact dates vary each year, but usually, it falls between the middle of October and November. Diwali signifies the victory of good over evil. Diwali also signifies the return of Lord Rama after defeating the demon King Ravana and rescuing his wife Sita – story of the Hindu epic Ramayana.
It is also called the 'festival of lights', because houses and roads are decorated with lamps. Homes are cleaned and decorated. There is loud bursting of firecrackers. Elders will also buy gifts and new clothes for their children and relatives. Rangolis, which are colourful patterns, are painted in the courtyards and living rooms.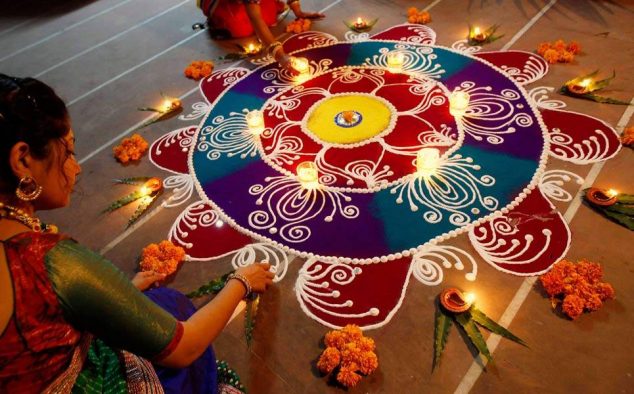 Significance of Diwali
This is one of the biggest festivals in India. This is a Hindu festival, but people from other communities will also observe it. It is celebrated in the north-east and Goa, which is mostly Christian, and also in the Muslim majority areas of the country. Diwali is a national holiday, with all schools, colleges, banks, and offices being closed on the main day of the celebrations.
Diwali in Goa
Diwali is an important festival in Goa as well. It often signifies the start of the tourist season, especially if it falls around the end of October or in November. Many businesses will celebrate the event as the start of their financial year.
Street parades are held in various places during Diwali. Figures of the demon king Narkasur, made with straw and paper, are burned, with the onlookers cheering. These are huge figures, often larger than 20 to 25 feet. Special Diwali parties are also held, particularly in North Goa. Psychedelic trance music is played in big stereos. The night clubs will often organize special Diwali events. Tourists, mostly Indians, attend these events. It is still early for most foreign tourists in Goa.
The locals in Goa will distribute sweets, and wear new clothes. They will also offer prayers to attain wealth and for good fortune. Rangolis are painted on the floors, and even the walls of homes.
In Goa, Diwali is more about the killing of the demon Narkasur, and less about Lord Rama and his return home.