It's important to protect the interiors of your office space or residential apartment from dust, pollution and prying neighbours. Zip screen external blinds are the ultimate choice for any outdoor area or window.  These are custom-fitted blinds that leave no gaps, thereby preventing the entry of any form of ants and insects.
10 Benefits of Zip Screen External Blinds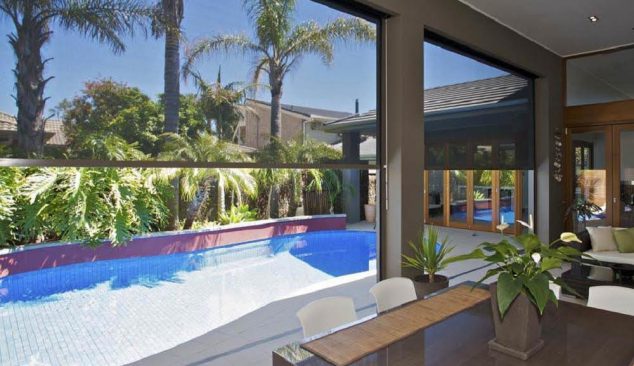 Customized

: These blinds are custom-fitted to your windows or balconies and therefore, can be used in a variety of spaces according to your needs.

Changing aesthetics and architecture: Zip screen roller blinds completely change the look and feel of your space, be it your office or house. With these blinds, bring a slice of your patio in your dull office. These customized blinds are available in several colours and varieties, thereby adapting better with to decor.
No sagging

: Do you get worried about sagging blinds and covers? With zip screen external blinds, you don't have to worry about it. Their zip-lock system ensures they remain taut and in original shape no matter what.

Protection

: With zip screen external blinds, say bye to dust and harsh sunlight. Experts' advice not to leave it hanging during very strong winds; but otherwise, these sleek blinds have you covered. Their mesh fabric allows transmission of minimal light and air, thereby creating a muted ambience.

Easy to use and maintain

: These blinds come in easy to use formats and maintenance is relatively easy due to its hassle-free nature. It's not even that difficult to use the locking pattern and external side-channels that make it easier.

Custom-fit

: The fit of these zip screen external blinds is such that insects and dust are kept away. Many stylish blinds such as the Venetian ones have a problem with insects and dust entering the interiors. But with these blinds, you won't have that problem.

Privacy guaranteed

: Tired of office colleagues peeping in through windows when you're having guests over? Does it bother you that pedestrians stare at your awesome interior decor from right across the street? With these external blinds

,

privacy will be yours to keep. With screen mesh and fabrics controlling visibility, your space will be now even more private and cosier than before.

Different kinds of operational modes

: With modern homes come innovative and advanced technology. If you were worried on how to handle these blinds, don't anymore. These are available in fully automatic versions complete with remote controlled operations that work with one button. There are other options too, such as spring operation and using a manual crank gear.

Different sizes

: Many new users are worried about external blinds being too huge or too small for their spaces. As mentioned earlier, these blinds are custom-fitted and can settle into at least 3 different sizes of balconies and windows at your house.

Budget-friendly

: Due to the option of being custom-made, you can always rely on having it within your budget.
The simple yet stylish design of these blinds can be integrated seamlessly at any home or office. They are sleek, stylish and durable alternative to traditional awnings and roller shutters. They have turned one of the popular choices among the buyers due to their versatility, ease of use and flexibility. There are several kinds of blinds available and in a plethora of shapes and designs. It might get difficult to choose what's best for your house. In such cases, talking to several experts and considering your budget is always the best idea. Install these blinds in your outdoor area today and enjoy the perks of these external blinds.