Hidden doors design is definitely not a new trend and option for your home and nowadays there is a great diversity for people who prefer to add such kind of doors to their home interior. Depending on your taste, you can choose the most appropriate hidden door, taking into account the design of your room and of course the role that the hidden door plays.
Even if you are a fan of conventional furniture and design ideas, you can take a look at the interesting ideas for hidden door designs that I have prepared for you and to refresh the home environment by replacing your traditional door, with a stylish and modern hidden door.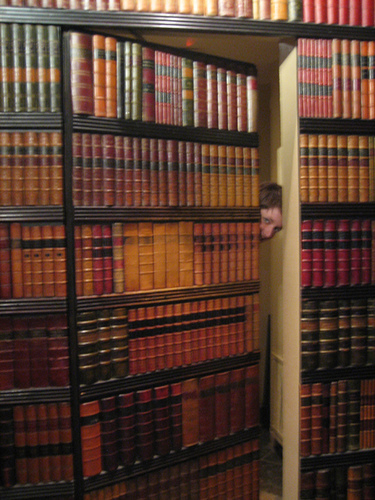 If you, however, have never heard of these wonderful hidden doors, this article will really help you add some great ideas to the list of future home improvements. I will outline several great ideas for hidden doors design and I am sure that they will attract your attention and that you will soon become a real fan of these unique hidden doors.
The Wonderful Bookcase Hidden Doors
This hidden door design idea is preferred option for teenage girls in their rooms, because they look just wonderful and save up a lot of space. Why not using your door as a bookcase for preserving your favourite books, souvenirs and photos. A bookcase hidden door may be a wonderful gift for your daughter who wants to make her room unique and remarkable. Behind this sweet bookcase hidden door, you can situate a hidden space or simply a tiny room for your desk and computer. Whether for study area or for place for relaxation, this spaces will be secretly hidden behind the wonderful bookcase door.
Staircase Hidden Doors
Although it may seem unbelievable for many people, these hidden doors do exist! If you would like to think of something unusual for the interior of your home, this hidden door will really have an amazing effect. If you could not imagine a staircase that leads to an extra room, I will change your opinion. Your staircase can really hide a room behind it as long as you contact the right architects. Of course, everything depends on the type of staircase and on the whole design of the room, but if you have the willingness and the motivation, everything is possible. The staircase is lifted through a remote control and then the hidden room is being revealed to your eyes.
Incredible Wardrobe Hidden Doors 
Making your wardrobe a hidden entrance for an additional room is a great idea for making a non-conventional style in your home. If you have a large dresser, you can easily turn it into your hidden door for your secret room. The purpose of the room does not matter – it could be a playroom, a space for hiding some valuable possessions, or simply a tiny room for preserving your old books and belongings. If you want to combine the wardrobe hidden door with suitable furniture, I suggest you search for wooden furniture, preferably antique and to paint the room in darker colours.
Now that I have shared some great ideas for hidden doors design, I want to give you valuable advice – if you want to preserve the immaculate condition of the hidden door, you need to provide cleaning on regular basis or hire professionals like HM Floor Fitting Hammersmith to do that for you. That includes removing the dust, dirt and any other improvements that are required. Choose the desired hidden door design and surprise your family and friends with innovative ideas for the design of your home. Hidden door designs are also a great idea how to preserve your possessions in a safe place, so do not hesitate to invest in such kind of home design.