The American Home Shield Corporation was founded in 1971 with its base of operations in Memphis, Tennessee. It was thereafter acquired by the ServiceMaster Company in 1989.The ServiceMaster Company is one of the world's largest and most dynamic service networks, with a host of impressive and high profile brands under its umbrella.They were one of the founding companies of the home warranty industry, aiming to make home ownership less difficult by offsetting repair cost of home appliances and systems. They supply and administer home warranty agreements to about 1.4 million people (as per 2012) across 49 states, employing around 1800 employees and attending to about 2.5 million customer service issues per year. They provide gainful employment to over 11,000 independent contractors and 45,000 technicians in The United States making them both a large scale employer and a major taxpayer. They are the largest home warranty provider company in the United States.
American Home Shield offers a myriad of warranty plans for homeowners and real estate owners with tailor-made plans and very competitive rates in the market. They have a very solid capital base and are financially solvent enough to offset any legitimate warranty claim. This makes them a relatively safe company to invest in. They have also branched out and partnered with real estate professionals where they offer dual deals where the home shield warranty service premium cost comes included in the monthly rental fee on affiliate properties.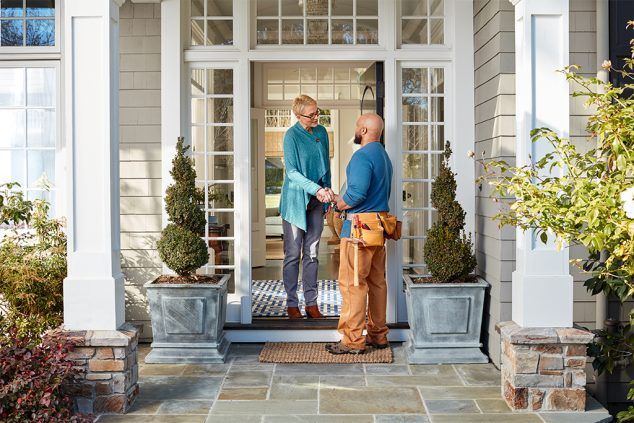 Under a study by the Better Business Bureau conducted in 2015, they were awarded a grade of A- on their very comprehensive grading system that covers aspects from warranty pricing, reliability and customer satisfaction. The A- grade in lieu of a straight A grade was due to the volume of complaints received from American Home Shield customers regarding service delivery. Although it is not strange for a customer service oriented business in the insurance industry to annoy a lot of its customers, or for a corporation operating on this scale to have some setbacks there was a noted lackluster performance on servicing. The direct client relation aspect is very important here and American Home Shield seems to not be putting their best foot forward. Their technicians are reportedly corrupt, claiming to have fixed appliances they had not, sending the customer bills for unfinished work orders and even threatening clients with credit reporting if the fraudulent invoices were not paid. This has led a drop in the grade awarded from the Better Business Bureau from an A- in 2015 to a B as of late last year.
Another problem area with the American Home Shield is their propensity to find loopholes so as not to pay up on policies. Their home policy stipulates that their service contract covers the repair or replacement of part and components of home systems and appliances when they break down due to normal wear and tear. This leaves a lot of room for contract defaults due to ambiguity and like any other insurance company, they go long lengths to prove the legitimacy of the claim before they pay. This has led to a lot of customer dissent as the customers and company battle for what each party feels is owed. To be fair, this is the normal model of operation for any insurance company, to operate otherwise would be foolish and probably lead to bankruptcy but to the policyholders, these are essential home appliances that are essential.
One advantage of the American Home Shield over a traditional manufacturer's warranty is in the scope of coverage. The manufacturer warranty covers failed parts on the one appliance covers but does not cover the additional costs of labor and repair while the home warranty cover covers multiple appliances making it both more cost-effective and comprehensive. This can provide a policyholder with additional financial freedom in the event of a home breakdown of a vital appliance or system. They also offer additional coverage over traditional insurance products that only cover major or total losses. The breakdown of a major home appliance is more of an inconvenience than a debilitating event and as such a warranty cover that mitigates the financial loss with little impact on the home owner's financial position is a powerful tool. Coupled with other financial instruments such as hire purchase policies on high-end electronic goods, an American House Shield warranty can provide further protection from substantial financial loss and a comfort net on appliances not fully financed but already at work in the house.
One disadvantage of an American House Shield cover is the sheer number of people they serve. With such a wide customer base, individual customer attention at a satisfactory level. Add on the fact that most of the direct servicing work for policy holding clients is done by second party independent contractors or technicians, it makes it extremely difficult for American Home Shield to directly deal with every customer issue effectively. This leads to a vast gulf between the corporation and policyholder and therein fester the corporation's biggest setback. It would take a lot of hours and manpower to fill this gulf and in their attempt to put a temporary fix in place, they have wound up alienating customers more. There is a call center service to answer queries by policyholders that lists high on the most irritating services from American Home Shield customer service delivery. There are immense waiting times, with inexperienced customer care agents with little to no expertise on appliances or what areas are covered by the home shield warranties. They need to invest a lot more in this sector because, in the long run, their profits stem from a repeat customer and not one-time policy buyers who discontinue coverage due to disappointment.
Overall, the American House Shield Corporation fills a very important niche and valuable enables policyholders the ability to live a higher quality of life. You can check AHS reviews from various sources before have any decision. They are a vital aspect of the financial sector from employment to tax payments. They might not be perfect, but they have a strong base and can only get better!