The bathroom is the place that usually requires the most privacy in the house. It is most definitely labeled as the number one relaxing zone, and as such it must be comfortable and pleasant. There are various options on how to transform your bathroom into a cozy, yet modern room. Using geometric shapes and patterns, minimal colors and clean lines is one of the options. In this way your bathroom will effortlessly become a modern sanctuary for comfort and cleanliness.
Another option for decorating this room and transforming it into your private heaven is adjusting the lighting and choosing the right colors for the walls, the floor or even the furniture. Choosing a color can change the atmosphere in every room. We talked about different colors and their meanings in some of our previous posts, and we mentioned that green is usually the right choice if you want to bring freshness and cleanliness into your house.
From a meaning of colors perspective, green is the color of growth, renewal, and rebirth. It is also the color of balance and harmony, creating equilibrium between the head and the heart. Due to these characteristics, designers often use it in the interior design, especially when decorating the bathroom.
This color usually comes in different shades, from light green to dark-emerald green. Although it might seem a bit of a strong choice for interior design, it can be easily adapted into the space if you just put your mind into it. When it comes to the bathroom, for instance, you could paint the walls in green, and use white or beige furniture to complete the whole picture. You could also transform the bathroom floor into a green area, mixing it with wood bathroom cabinets and green floral wall coverings. And if you don't want to overdo it, just use a few vases and green towels to make this room look more interesting.
If you are more than ready to use green color for your bathroom interior design, but you don't have any ideas, just scroll down and take a look at these 16 fresh green design ideas for your private heaven. Enjoy!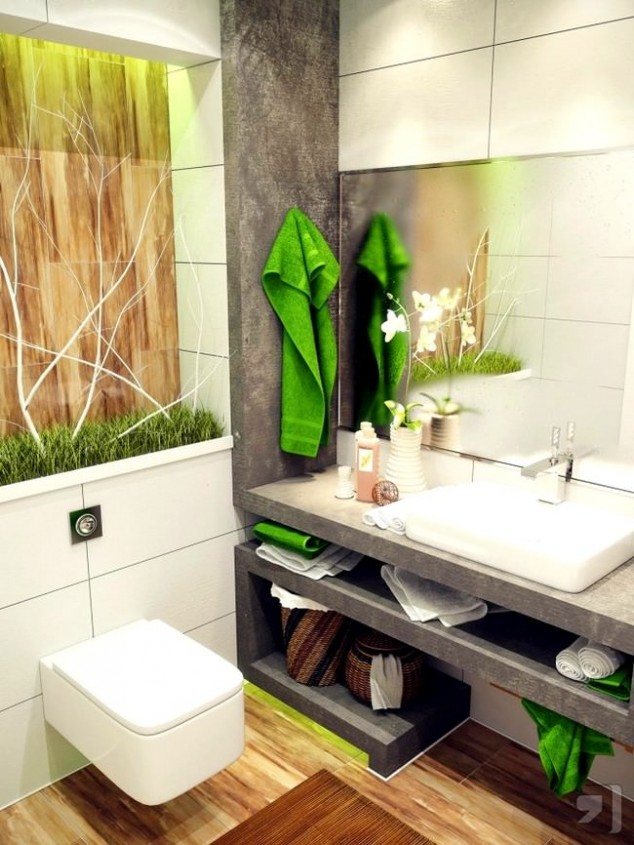 Photo via www.dekorasyonbilgisi.com[/caption]