The exterior of your home as is the garden or the backyard is very important, because a good-looking exterior represents much more than anybody could imagine. It reveals a lot about you and your personality, especially if you have or not talent for well organizing and decorating your home. Everybody before entering into your house, passes through your garden and it is very important to leave a good first impression. So please remember that! Decorating can be fun. Just be original and use the most of your creativity, be open minded and use your big imagination that can take you to the greatest ideas ever. And if you lack ideas here we have some wonderful examples for decorating your backyard or garden.
Fountains and waterfalls are among the most popular decorations nowadays. They are interesting, unique and can create a cool and refreshing backyard. Water in the garden gives unique effects, visual and aesthetic, so it is known as particularly effective means of relaxation.  No matter what it is, a fountain, a pond or a waterfall it always gives an elegant and unique note to the whole look of the house and certainly leaves a good first impression. So, ask for help of professionals if you are not sure what materials to use, or how to solve the issue with the water. Keep in mind that you should take good care about this water features, because they need maintenance. Fountains are perfect for adding a focal point to your garden, pools to create a gathering place for summer days and nights, and waterfalls for giving your garden an eye-catching water feature.
Here we offer to you a collection of 16 unique backyard water features that will leave you speechless. See them and maybe you will find an inspiration for your own garden!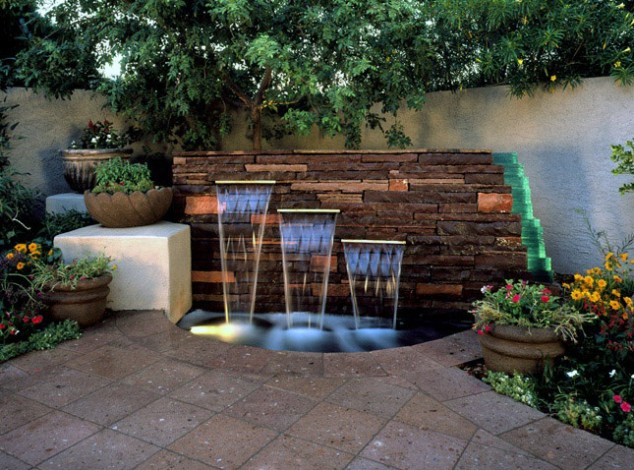 Photo via www.diynetwork.com[/caption]