Be prepared to be inspired for a new DIY project! Do you think that a wine barrel can be used only for storing wine? If so, these DIY barrel projects prove that you don't have to throw away the old wine barrel. There are plenty of options how to reuse an old barrel. Here you can find some exquisite ideas how to transform your old and used barrel, and give it a new look, new life, new place and function in your house. DIY barrel projects are an excellent example how to make something beautiful, but also very useful, a decoration or some functional object for your house. Including wine barrels in your home decoration, you add charm and style in your place. It is enough to dedicate some of your free time to create some of these amazing DIY projects out of wine barrels. This way you can save some money you would spend for buying things that can be made out of wine barrel. Pretty simple, but very adorable.
You can create some flower vases for your garden out of a wine barrel. Or if you have a dog as a pet, you should try to make a comfortable dog bed for it out of a wine barrel. Also, there is a possibility to use an old wine barrel to make a cool table for your living room or kitchen, or a barrel nightstand for your bedroom. And what about some wall shelves out of a wine barrel to decorate your interior, or a whole cabinet where to store your wine bottles, and plenty more. A wine barrel can be used for both, outdoors and indoors.
Always think twice before deciding to throw away used wine barrel! We invite you to throw a look and feed your imagination. If you are looking for a new look of your old wine barrel, we are sure that these ideas will fuel you into the creative state of mind.
1. The Barrel Table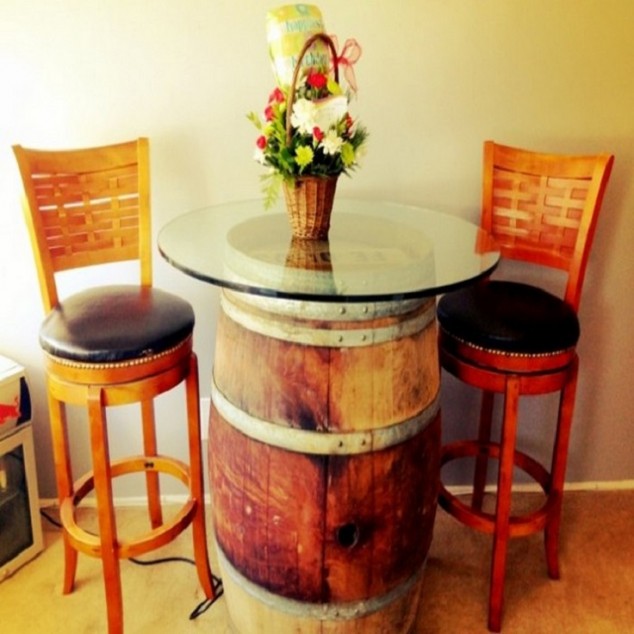 Photo via www.topinspired.com
2. DIY Barrel Side Table
3. DIY Barrel Nightstand
4. DIY Donkey Kong Game Table from Wine Barrel
5. Baby Cradle Made from Old Wine Barrel
6. DIY Wine Barrel Cabinet
7.  DIY Dog Feeder
8. DIY Barrel Dog Bed
9. DIY Barrel Planter
10. DIY Barrel Cooler
11. DIY Barrel Racks
12. DIY Circle Shelf
13. Wine Barrel Drums
14. How to Make a Wine Barrel Sink
15. Wine Barrel Table
16. Diy Mirror 
17. DIY Wooden Barrel Fountain
18. A Wine Barrel Sink
19. Wine Barrel Kitchen Island
20. Wine Barrel Fountain
21. Wine Barrel Chairs