You don't believe that the smallest kitchens can be well organized? Then definitely you have lack of ideas. It is always more difficult to arrange small room than a large one. This is also the case with kitchens. The fact is that you should correctly use ever inch in the kitchen to have enough space to work and at the same time, to have enough space to place all the utensils you need to have in the kitchen. These photos will show you how to keep your kitchen organized any time of the day. There are 15 ideas how to maximize and creatively arrange the space in your small kitchen.
Extra space is always welcomed no matter if we talk about small or bigger kitchen. This slide-out workstation and reducing board has exactly this function. To opens additional space in the kitchen. It might be pulled out while you want an additional floor for preparing a meal or some specialty, but tucks in neatly when not in use.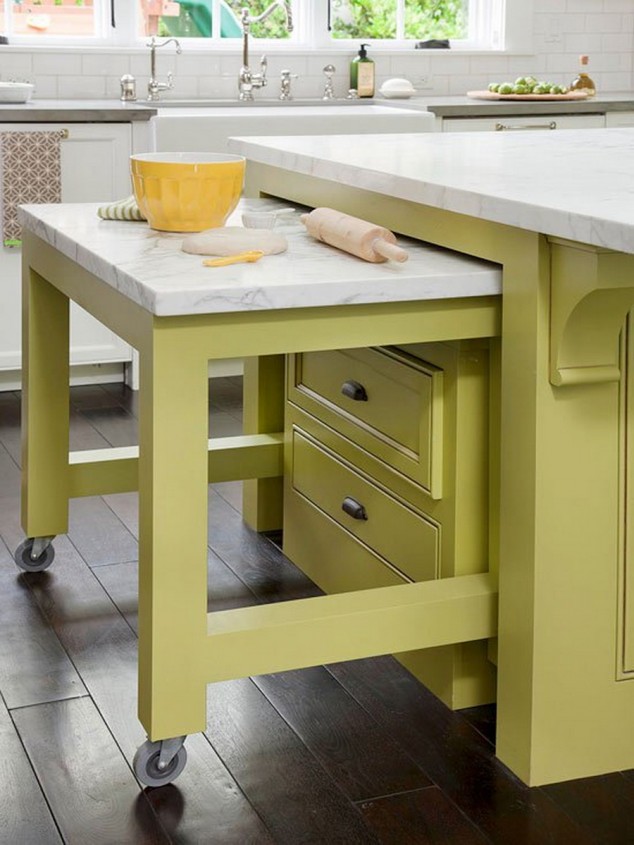 This is a modern kitchen drawer system that allows maximum use of every inch of space, without cluttering up the space.The drawers are mounted in cabinets as one or more multi level boxes for storing a wide variety of kitchen appliances. Drawer advantage is that you can open them fully because embedded fasteners hold open drawer in position, preventing it from coming out, which allows it to fill completely the back area.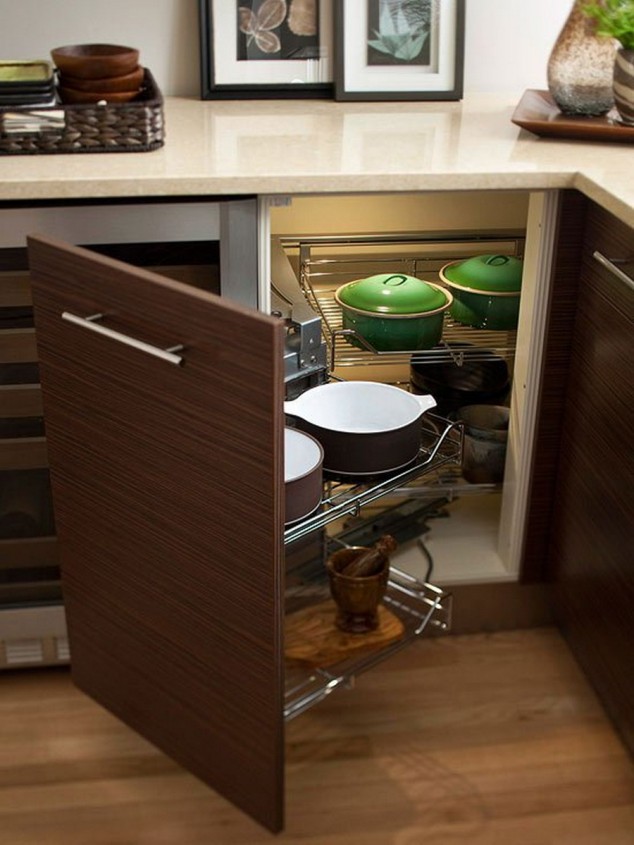 Use the small kitchen island to store some things inside in a drawers or shelves. The wheels make it easier to place it where you want in the kitchen.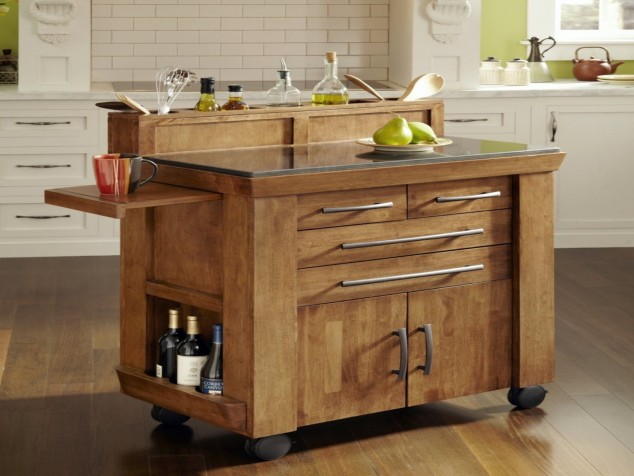 A collapsible table hanging on the wall is a real space saver in a small kitchen.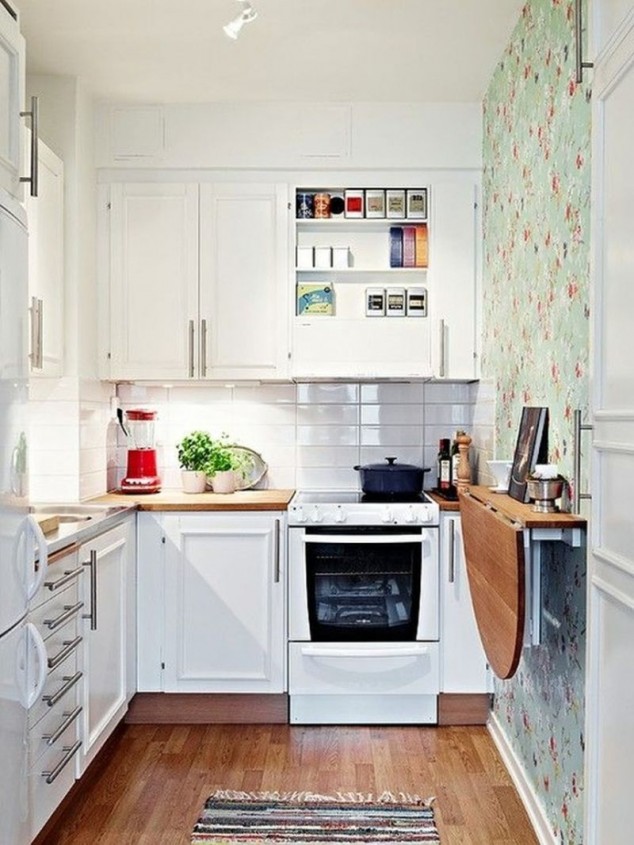 Pull-out cutting board is mounted inside the countertop and if necessary you can extend it.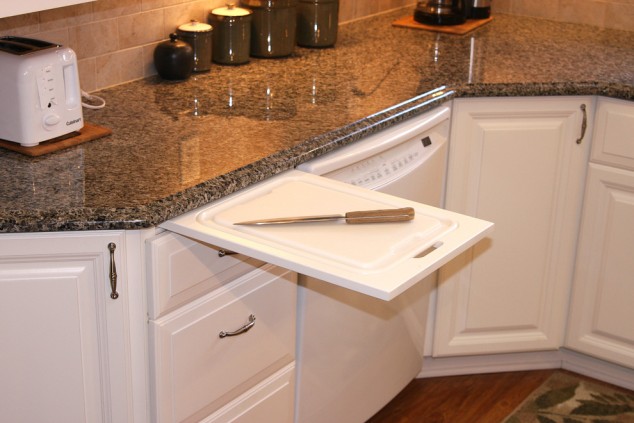 Or, mount it inside the cabinet using a pull out mechanism.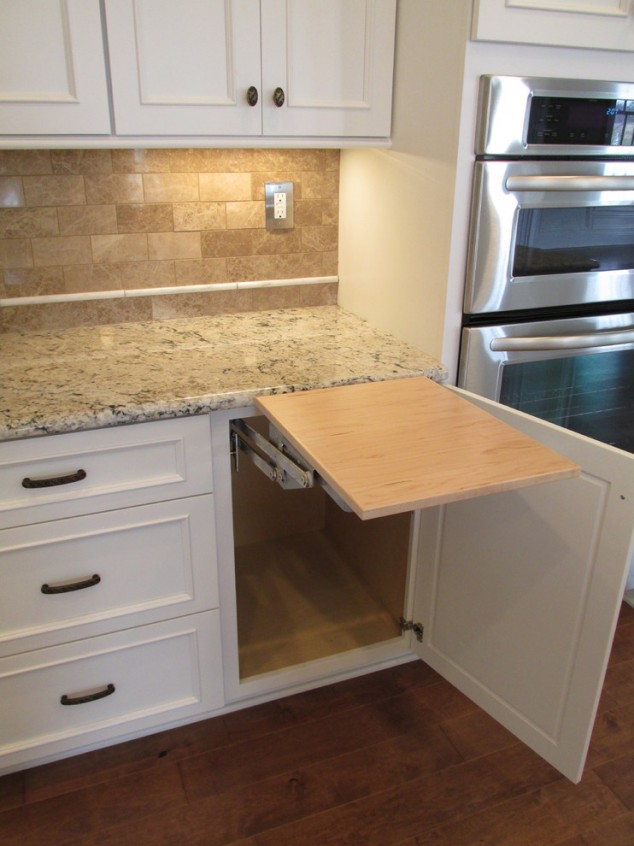 For the heavy appliances that you don't use every day, install a swing-out shelf within a cabinet. This way you will free some space in the kitchen but also inside the cabinet you will have space to place something else besides this appliance.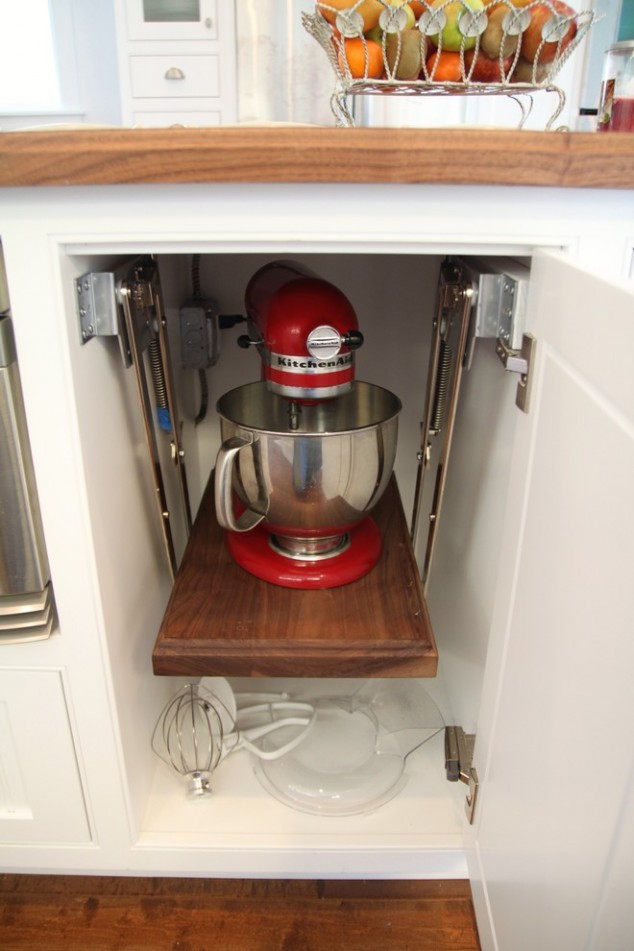 This copper sink has interior ledge for placing a cutting board inside. Pretty creative and useful design.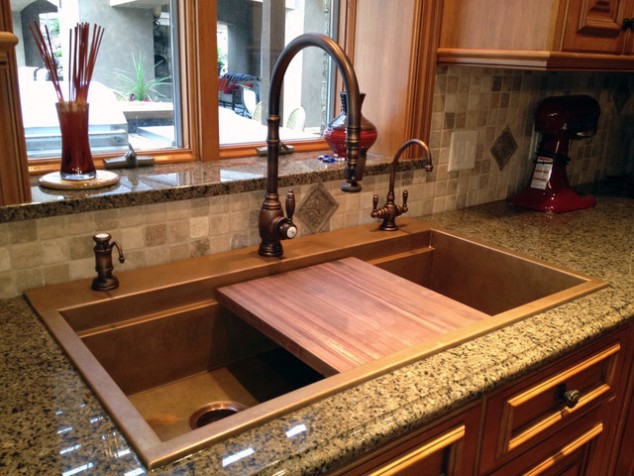 This is a practical arrangement for under the sink storage. Narrow drawers on either side store cleaning products while rods are here for hanging paper rolls and tea towels.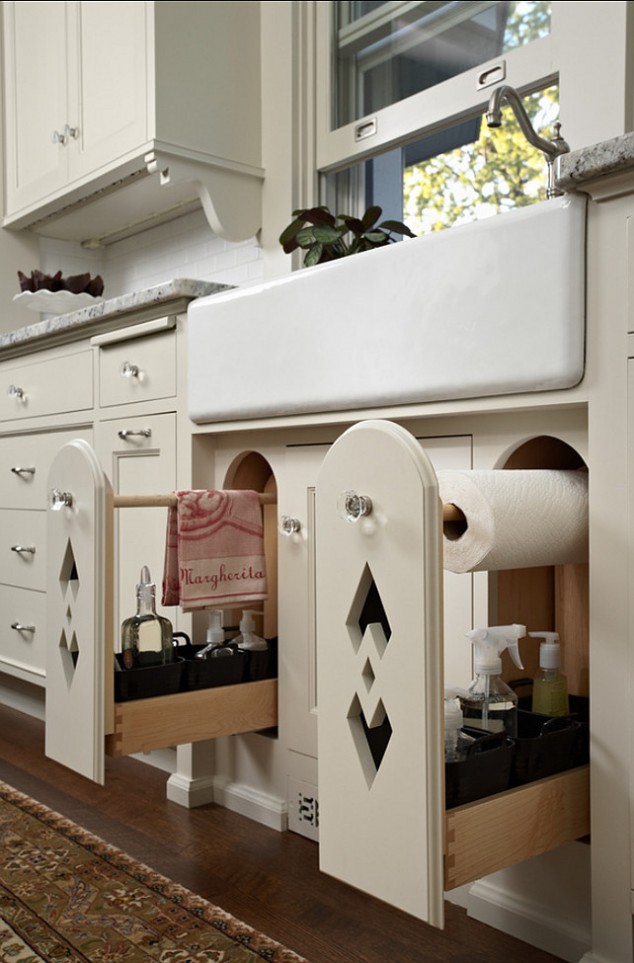 A drawer and a cutting board in one. The drawer uses as a container in which you can collect the crumbs or chop vegetables for a salad.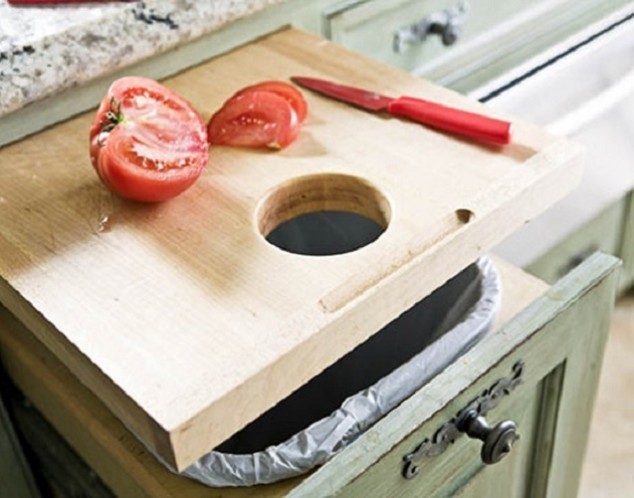 Use tall cabinets for small kitchen to appear bigger. Use most of the space in the tall cabinets by incorporating shelves inside.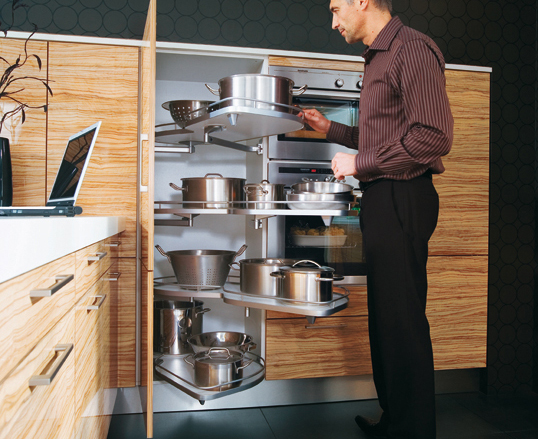 Use smartly the space under the cabinets, to place some of the cups you frequently use, the spices or the coffee for always to be withing easy reach.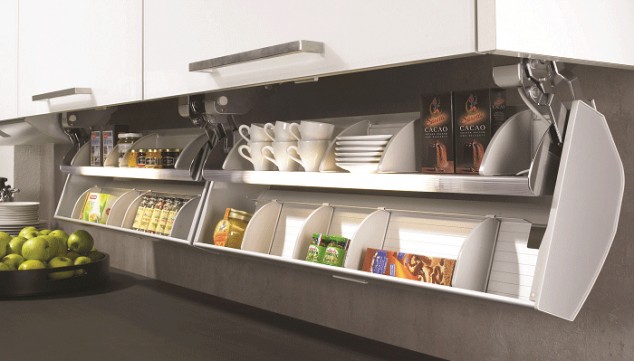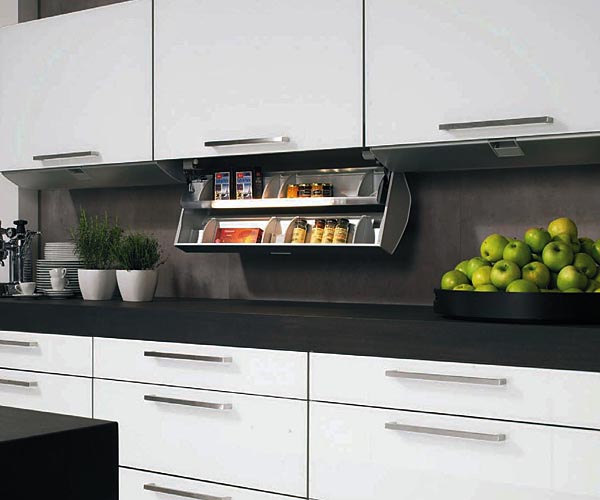 Those are some very helpful spice racks hidden where the oven connects with the cabinet.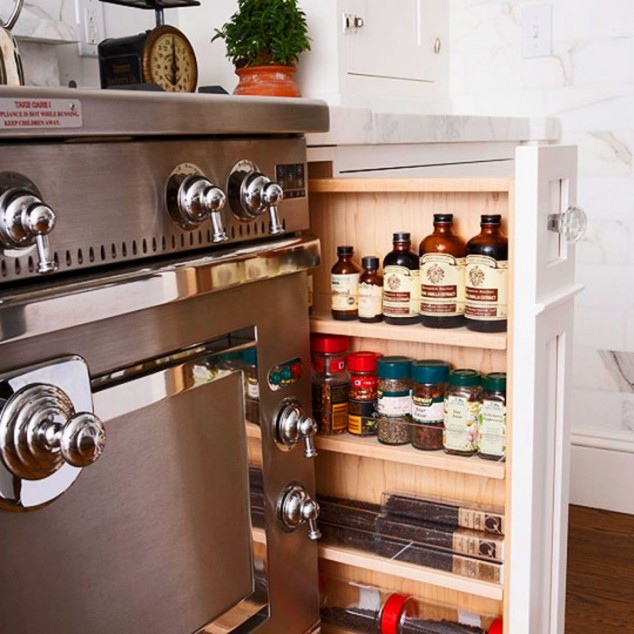 This is another way you can place some pull out drawers to maximize the space used in the cabinet.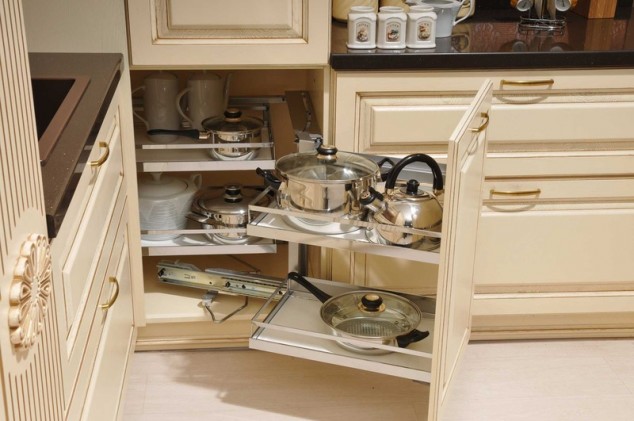 In a very small kitchen it is almost impossible to make a space for a real dining table. Extendable table can be built into the countertop or in drawers under it. Pull it to have your meal here in the kitchen.