No one wants to be last in line for all the best prom dresses, so it's always best to be prepared. If you're going to make sure you are "prom ready" as early as possible, we've got you covered!
We're joined today by JJ's House designer Jessica, who will be giving us insider tips on the top trends to look out for when it comes to prom dresses 2019!
Sumptuous Satin
Satin is timelessly classic when it comes to eveningwear, so its suitability for prom makes perfect sense! It's been gaining in popularity the last couple of years, but 2019 should see it be a top choice for many styles.
Satin works in almost every color but looks particularly striking in reds, burgundy, emerald green and deep blue tones depending on the sense you are trying to convey. Red and burgundy satin tends to give out a sensual, alluring quality, emerald green suggests confidence, and deep blues ooze class.
For a confident yet striking look, Jessica loves floor-length red satin, with beading embellishments around the bodice area. "What I love about red satin is how easy it is to accessorize with a gold or silver purse and shoes – it makes it simple to have a very complete look, easy to get perfect!" says Jessica.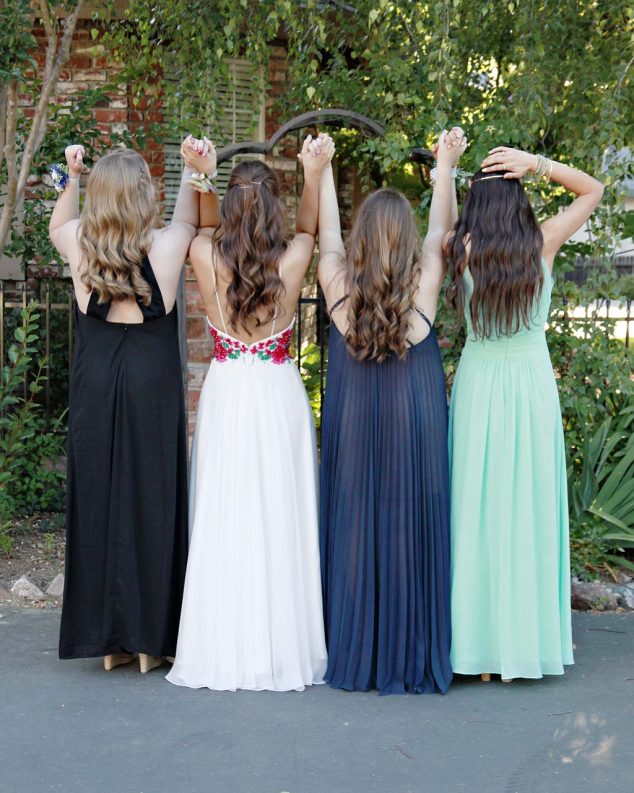 Fabulous In Floral
Floral dresses have been stylish for quite a few years now, and this is not going to change in 2019! So if you've been dreaming of a particular pattern for a while now, you're in luck!
You will find floral prom dresses in all sorts of prints – large and small – as well as colors, both pastels as well as bolder tones. If you are looking for something floral that is a little more dramatic, Jessica suggests going for a black dress with a striking floral pattern and some beading.
"You can find some amazing black dresses of course, but the pop of color on a long dress really helps bring it to a whole other level," says Jessica. The best thing about floral is its ability to make a unassuming cut of dress really stand out.
Outstanding In Ombre
Another trend that is not going away anytime soon is ombre. The reason this is so popular is it's a simple way to make a statement, without absolutely needing beading or sequins to look spectacular.
For those of us that prefer unassuming styles but certainly don't want anything bland, ombre dresses can be the perfect option. It also makes it easier for those of us that have trouble deciding on colors and tones as ombre has it all!
If you are looking to make even more of a statement, Jessica says you can add a thin belt at the waist. Another great embellishment is beading – but make sure this is either on the bodice or shoulder line of the dress or right at the bottom, so it does not take away from the beautiful progression of color.