Each family has a unique set of needs for the kitchen in their home. For a high-quality addition to a prefab home you can get a quartz worktop, Essex Granite Kitchen Worktops can help supply these. The home also has to accommodate the size of the family and the meals they make, but also everything else that goes on in the kitchen. Kitchens have become more than the traditional room that someone cooks the meals in. They have become a multi-purpose place where children do homework while a couple works together to prepare food. It is also where new recipes are attempted and where kids first learn the basics of how to prepare meals. The kitchen is really the soul of the home and the layout of the kitchen becomes very important because of this. It can determine whether the time spent in there is stressful or pleasant.
There are five standard layouts for kitchens:
U-Shaped Kitchen
The U-shape kitchen has three walls of kitchen cabinets and appliances. This layout it typically used in a spacious kitchen, making it ideal for big families or households that like to host guests. It also leaves room for multiple cooks meaning that meals can be prepared together without getting in each other's way. Overall, the kitchen provides a lot of storage space for people who like to spend time in the kitchen and allows them to spread out easily. An island is a nice touch if space allows for it. It would add a little extra storage and counter space while creating a centre point for people to work on.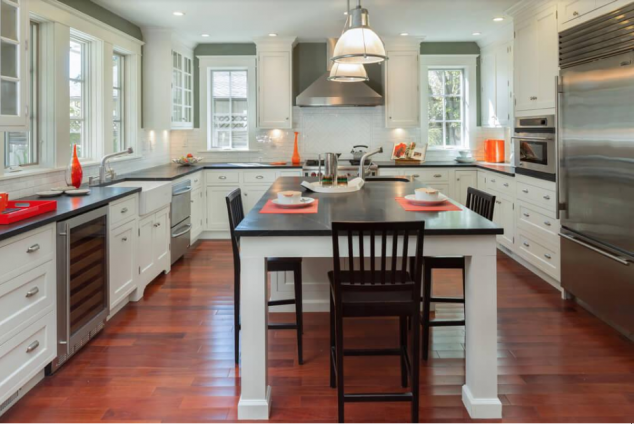 G-Shaped Kitchen
G-shaped kitchens share many similar features to U-shaped ones. The main difference is that there is a small addition on the fourth side. This could be a wall that does not fully close off the room, but most often it is a connected island or "peninsula." This is an option for anyone with a U-shaped kitchen that would like an island but doesn't have enough space to allow for it and would like to avoid a complete kitchen remodelling. This also does a nice job of connecting the kitchen with an adjoining room. Another popular option is to turn the peninsula into a breakfast bar for meals that are eaten quickly.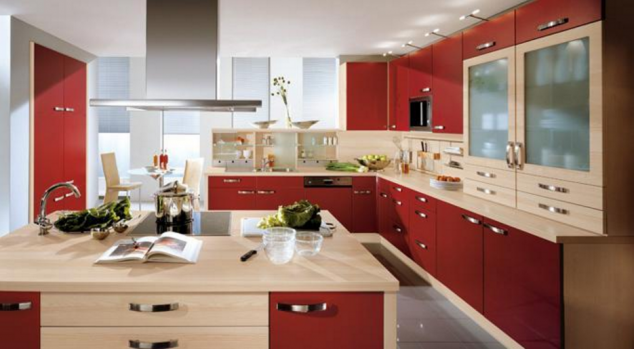 One-Wall Kitchen
The one-wall kitchen layout is a common design that is most often found in studio apartments or loft spaces where there isn't a lot of space to work with. All cabinets, appliances, counters, and the sink are lined up next to one another on a singular wall. This design keeps any unnecessary protrusions from taking up room in the rest of the apartment. The issue with this is that while the one-wall kitchen the most space efficient of all the regular layouts, it has its limitations as a result. The most obvious shortcoming is that it does not offer much area to prepare food on. Due  to this it is best for smaller households and for individuals. Anyone preparing large elaborate meals on a regular basis might find this layout frustrating. There are of course options to help with this issue however. An island alone can add enough counter room and storage space.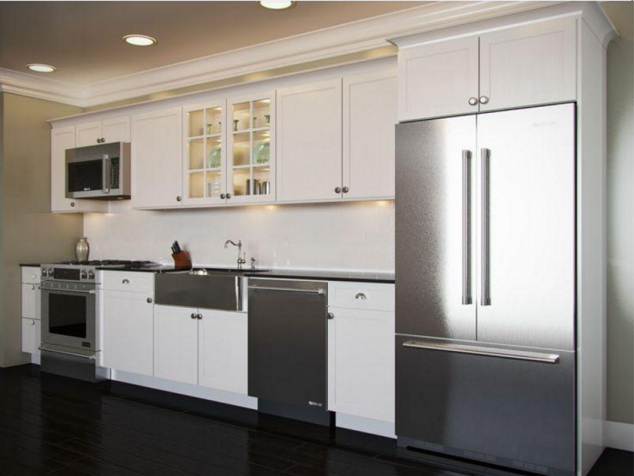 Galley Kitchen
This is an efficient layout that is ideal for apartments and houses with limited space. It is often a one-cook kitchen, and tend to be too small for two or more people to work comfortably side-by-side. They are characterized by two walls opposite or two parallel countertops with appliances and cabinets lining them creating a nook for the kitchen. They are also called walkway kitchens because there is a clear path between the two walls, meaning that islands are not typical used for this design. Galleys are space efficient, using every last inch.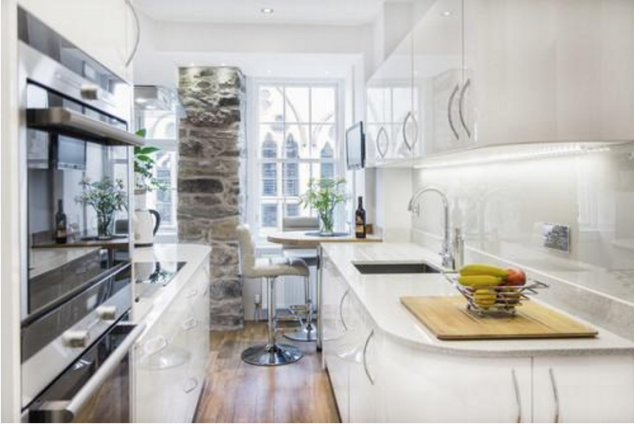 L-Shaped Kitchen
L-shaped kitchens are ideal for small to medium sized kitchens. They are also aptly named as they consist of two perpendicular walls of kitchen cabinets and counters that meet at a corner, forming the letter "L" in the process. They maximize corner space in the kitchen and are versatile as a result. This shape is good for accommodating multiple cooks and it keeps traffic at a minimum due to its shape. This means that people won't have to be getting in each other's way when passing through, as would be a concern in a galley kitchen. L-shaped kitchens can easily accommodate an island addition if necessary as well.