It is often said that the route to a man or woman's heart is through her stomach. The same could potentially be said if you want to understand another culture better. Despite being a time of fasting, Ramadan is also a celebration of food in the Islamic world, with some amazing feasts being held after sunset each day at the meal known as iftar or the . If you saw the title of this post, and then asked yourself "when is Ramadan?" you're in luck. Ramadan 2019 began on May 5th, and will continue until June 4th. So now is the perfect time to try out some amazing Ramadan Iftar recipes, and what recipe group is more fun and enjoyable than desserts.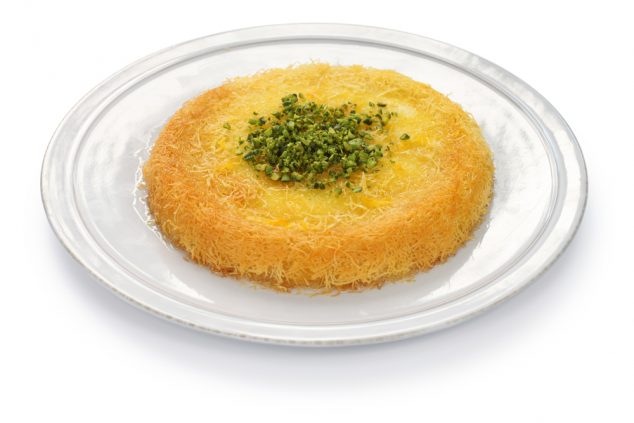 Sweet little cakes that are made with a recipe that is passed down from mother to daughter from generation to generation. Something to really enjoy after a hard day's fast.
Preparation – Twenty Minutes
Cooking time – Twenty Five Minutes
Total Time – Forty Five Minutes
Ingredients
Two cups all-purpose flour

One teaspoon of baking powder

Four eggs

One and one quarter cup white sugar

One and one half cup melted butter

One cup plain yogurt (you can chose flavoured if you'd like to add something extra)

One and one half teaspoons of ground cardamom

One tablespoon of rosewater

Half a cup of blanched slivered almonds

One and one half tablespoons of chopped pistachio nuts
Pre-heat your oven to 175 degrees Celsius (350 Fahrenheit). Sift the flour and baking powder together into a bowl, then set that mixture to one side. Grease the cups of a cupcake pan with space for 24 cakes.
Combine the eggs and sugar in a heatproof bowl and set that on top of a pan of simmering water. Beat this mixture for approximately eight minutes, using a whisk or electric mixer. If eight mins pass and the mixture is not thick and pale continue until it is. Then take the mixture away from the heat continue to beat for ten minutes until the mixture is cooled. Blend in the butter, yogurt, cardamom and rose water. Then gently stir in the flour and baking powder mixture, and then fold in the slivered almonds. Spoon this into the into the cupcake moulds, filling each one approximately two-thirds to three-full. Sprinkle in some chopped pistachios over the top, using a spoon to make sure they have adhered into the mixture.
Bake until firm to the touch and golden brown, 25 to 30 minutes.
A classic recipe that is popular all across the Middle East, in this particular instance Halva is given a distinct and specific Persian twist.
Preparation – Ten Minutes
Cooking time – Ten Minutes
Total Time – One Hour, Twenty Minutes
Ingredients
One cup white sugar

Half a cup of water

Quarter a cup of rosewater

Three Saffron threads

One cup of butter (unsalted)

One and one half cups of all purpose flour
Mix the water and sugar and then boil them in a saucepan, this should only take five minutes for all the sugar to dissolve. Then stir in the rosewater and saffron, and once they are fully mixed in remove the pan from the heat.
Using a low heat, melt the butter in a larger saucepan on a low heat. Once its fully melted stir in the flour until it becomes a smooth paste. Then leave the heat on until the paste resembles a golden amber hue.
Slowly whisk the sugar mixture into the freshly golden paste until everything reaches a smooth consistency. Spread the mixture out onto a plate and using a knife, fork, or other implement, make a decorative pattern in the top of the halva. Then using clingfilm/saranwrap, cover the mixture and leave to refrigerate for one hour.
In the heat of the desert, it is hardly surprising that frozen treats are popular. No cooking time here, only a long and patient time in the freezer.
Preparation – Ten Minutes
Total Time – Nine hours and ten minutes
Ingredients
Two five ounce cans of evaporated milk

Two seven ounce cans of table cream

One fourteen ounce can of sweetened condensed milk

Two slices of white bread

Quarter teaspoon of ground cardamom

Twelve blanched almonds
Put the evaporated milk, canned cream, and sweetened condensed milk into a blender
Tear the bread slices into small pieces, and add them along with the cardamom and almonds into the blender. Blend this mixture for three to four minutes until it is all fully liquified.
Pour into serving glasses, and place into the freezer for nine hours (overnight). Retrieve from the freezer, serve and enjoy!
These recipes and far more besides show the world that Ramadan is no mere puritan display of self deprivation. It is a time of celebration, enjoyment, and family togetherness as people come together to enjoy food, fellowship, and festivities. If you see any friends or relatives of the Muslim faith this season, be sure to say to them "Ramadan Mubarak!"