There is so much natural beauty in Canada that it can be hard to know where to take it all in. If you want to get out and see some of the most gorgeous sights the country has to offer, the country isn't short on choices when it comes to visiting some of the most stunning mountainscapes in the world.
If you're someone who loves a good hike, lives to ski, and isn't afraid of heights, then you need to check out Heat Holders and their selection of thermal gear. A trip to the mountains requires preparation, and having the right pair of thermal socks and reliable base layers is key to ensuring you enjoy your time in the great outdoors.
To help you plan your next expedition to a breathtaking mountain view, here are seven Canadian mountain destinations to fuel your wanderlust.
Icefields Parkway
The Icefields Parkway runs 234 km between Jasper and Banff, allowing visitors to take in some of the most spectacular views in Alberta. You can observe Lake Louise, Peyto Lake, and the Columbia Icefields, not to mention the waterfalls, bright blue lakes, and over one hundred glaciers that await the adventurous.
Moraine Lake
Located in Banff National Park, Moraine Lake has a stunning blue colour that comes from silt deposits from the melting glacier. You can hike around the lake and take in the views of the surrounding mountains, which makes this destination one of the less athletically challenging destinations on this list. 
Killarney Provincial Park
If you call Ontario home then it might be easiest for you to travel within the province when seeking out a new, thrilling mountain hike. Killarney Provincial Park is located in the La Cloche Mountain range, which home to sparkling white quartzite rocks that make for gorgeous views.
Mount Robson Provincial Park
Any mountain lover would be right at home out on the west coast in beautiful British Columbia. Mount Robson is the highest mountain in the Rockies and a World Heritage Site to boot, making it a must-visit destination for adventurous folks.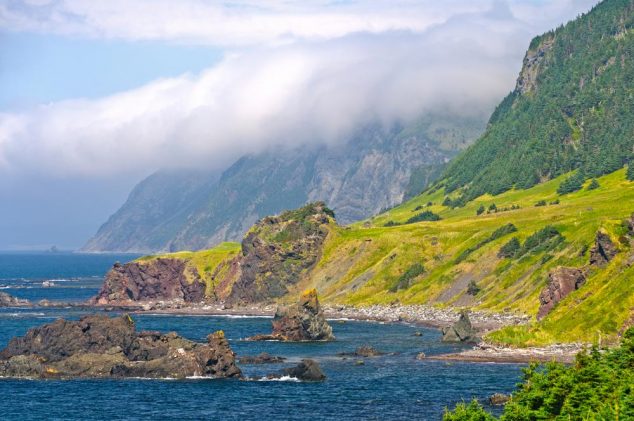 Kluane National Park
You'll want to pack your thermal socks for this trip. The highest peak in Canada, Mount Logan, can be found in the Yukon at Kluane National Park. A visit to this park will certainly take plenty of planning and travel time, but it's well worth it to visit a mountain that's higher than Mount Kilimanjaro.
Cabot Trail
On the east coast in Nova Scotia is where you can find Cape Breton's Cabot Trail, a wonderful mix of mountain and ocean that's full of fantastic views. You can even drive along the Cabot Trail (but you'll get the best views from hiking), which makes this destination a very accessible mountain experience that's kid-friendly.
Gros Morne Mountain
You'll feel like a true explorer when on a trip to Gros Morne Mountain out on the island of Newfoundland. It's the second-highest peak in Newfoundland that technically counts as Arctic tundra according to Parks Canada. Known for its cold, wet, and unpredictable weather, you'll need to bring your best mountaineer game, warmest thermal socks, and most reliable equipment if you want to complete the seven-hour hike to the summit.