Spring is a great time to finally get around to remodeling the bathroom. The bathroom may be a small room, but that doesn't make remodeling it any less overwhelming. By taking the time to plan and prepare you can make everything flow smoothly.
Here are some great tips from experts who have spent a long time in the bathroom remodeling industry. They give you some ideas on how to make the remodel as stress-free as possible.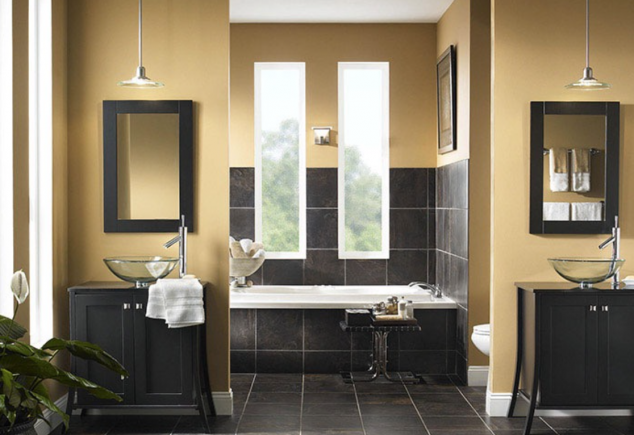 Create a Plan
Any remodeling project, especially a bathroom one, begins with a plan. Creating a plan is really fun too. You get to imagine what your ideal bathroom is and design it. Don't forget to factor in your budget and timing though. These are some pointers for creating the perfect plan:
Get some inspiration from Pinterest or Houzz and choose your favorite design ideas. If you're worried about selling your house later on then keep in mind that simple and traditional bathrooms will always be in style.
Understand where most of your money will go. Things like the floor plan or relocating the plumbing fixtures can lead to big expenses. Understand how much it can cost to do the things you want, and create a realistic budget you can stick to. Avoid going over budget as much as you can.
Differentiate Between Needs and Wants
Some of the things in your bathroom may genuinely need to replaced because they are damaged or old. This doesn't mean everything needs to be replaced. When sticking to a budget it helps to create a list of what needs to be replaced, and what you just want replaced. Focus on the important things first and where you should spend the bulk of your budget.
Be Realistic About the Time Frame
Changing the floor plan of a bathroom means losing access to it for some time. Think about how long you can live without a bathroom. Because DIY projects can take so long you may want to call in a bathroom renovation contractor who can provide you with a time frame and get the job done on time.
Deal with Reputable Contractors
The best way to keep your remodeling stress-free is to only deal with experienced and reliable contractors. You may be able to do some of the jobs yourself but things like the plumbing, framing, and fixture installations need to be left to the professionals. That way you can ensure they are done properly.
Verify the Qualifications of Your contractor
Verifying the qualifications of your bathroom remodeling contractor may add some time to the project but it is an essential step. Here are some of the things that you should look out for:
Don't trust a contractor when they tell you that they are licensed where you live for the project you have in mind. Renovating the bathroom will often mean doing plumbing and electrical work, this type of work is regulated and must be done to code. This means it's important that you confirm a contractor is qualified.
Make Sure They Have Insurance
You should walk away from any contractor that fails to provide you with proof of insurance. Even after you get the information about their insurance you should verify their policy is still in effect.
You can check out a contractors financials by contacting the Better Business Bureau, the consumer protection agency in your state, or even the subcontractors they've worked with. You can also check with their bank to ensure they are financially stable. It may be a lot of work but it does save you a lot of hassle in the future.
Get Customer References From Them
Good contractors will have the names of several satisfied customers they've worked with. If you want something more unbiased then find reviews for them using Yelp, Google, and Angie's List to find reviews for contractors.
Be Prepared for The Unexpected
All projects begin with a plan, but that doesn't mean things always follow the plan. There may be unforeseen problems that are only discovered once the project is underway. The more prepared you are for these unexpected issues, the less stress they will cause and the easier they are to handle.
Sit Back and Enjoy the remodeling Process
One way to avoid the stress of a bathroom remodel project is to enjoy every part of the process as it happens. When you enjoy what you're doing you can easily handle everything from planning, finding the right contractors, and even unexpected complications. The best part is that when everything is done you'll have a great new bathroom.
If you're interested in remodeling your bathroom then you need to ensure that it stays stress-free. The above advice will make renovating your bathroom as easy as possible.