Picking the proper flooring for your home can be a tough decision. When you have already invested in good quality wood flooring, you need to make sure that it will last for years to come. Many would choose this material because it makes the space look so warm and inviting. Solid wood flooring is proven to add a beautiful touch to the home. If you are worried about keeping it nice and clean, then we have some helpful tips for cleaning wooden flooring!
Regular Cleaning
Daily dust mopping is a good habit. All of the debris that gathers daily such as dust, dirt, and food, can be abrasive. Picking a good mop is also important. A microfibre mop is a good choice, as this material is designed to trap dust.
Dirt and oil can gather up, and the everyday moping will not help here. Occasional deep cleaning is a must if you want to keep your flooring in tip shape. Use a cleaning product to get the best results. Mix it with water, according to the manufacturer's instructions. Dip the mop in the liquid and drain it well. Too much humidity is not good for your wooden floors so make sure that you clean using damp, not soaking-wet mop. Wipe the excess water using a clean dry cloth, as standing water can damage the wooden floor.
Clean the floor thoroughly using a vacuum cleaner. You can do this once or twice a week. To avoid scratches, do not use a vacuum cleaner with a beater bar attachment.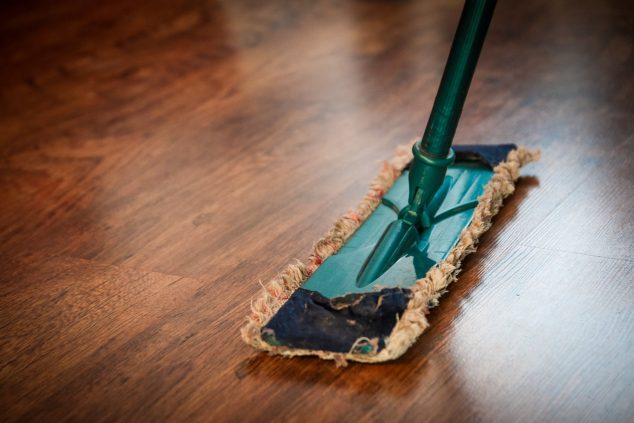 How To Choose A Good Cleaning Product
Using a good cleaning product is so important. When you are heading to the store to get some, make sure that you get the proper ones. With having so many different products available, you should carefully read the labels and get one that is specifically made for cleaning wood floors. Do not attempt to use products for tile or vinyl flooring, as these can damage the wood.
If you want to save some money and go green, you can always make a DIY floor cleaner. Add half a cup of vinegar in a gallon of water. Use this as your regular cleaner, just make sure that you do it with a damp mop and collect the excess water with a dry cloth.
How To Clean Stains
Water spills can leave white marks. But, do not worry as they are easy to be removed. Wait until the spot is all dry. Cover with a cloth and run the iron over it, with no steam included.
Pet stains should be cleaned as soon as they happen. Mop with the vinegar mixture in order to prevent unpleasant odors.
Scratches can make your beautiful wooden floor look old. Do your best in order to prevent them. For example, place rugs in the areas where kids play with their toys. Also, do not forget that wearing heels can cause significant damage to the floor.